For the aspiring homesteader, making your own homemade cranberry sauce has to be one of the easiest recipes to follow. Unlike many fruits, cranberries contain a lot of natural pectin and gel up perfectly without having to add any store-bought pectin. Basic recipes include just three ingredients: cranberries, sugar, and water, and cook up in only 15 minutes. What could be simpler? Customize your flavors to lean towards sweet or savory, and enjoy this healthy cranberry sauce year after year!
Additions to Cranberry Sauce
When I'm making cranberry sauce from scratch, I always add a sprig of fresh rosemary, but there are a variety of unique additions to use. Try adding a bit of lemon zest, orange zest, orange juice, pomegranate, cinnamon, or chopped dried fruits like apricots, raisins, or prunes. A pinch of sage or basil offers a savory twist that pairs well with turkey or chicken (not to mention spread on those leftover turkey sandwiches!). Chopped nuts are not unheard of, and a combination of sautéed onion, raisins, and coriander would give you the flavor and texture of cranberry chutney.
Sweetening Cranberry Sauce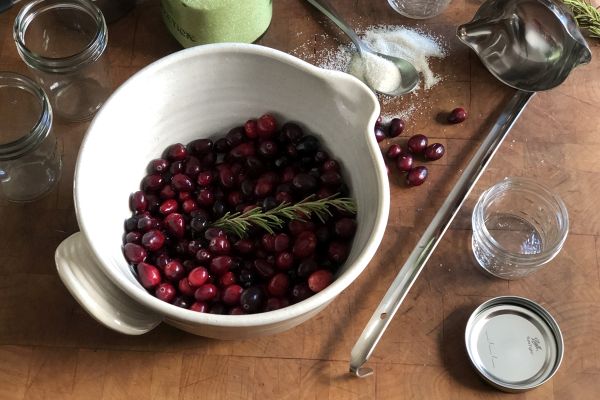 For sweeteners, you could easily substitute honey for the granulated sugar. When using honey, omit the water at the beginning of the cooking process, and add some later on if you feel like the sauce is getting too thick. This recipe is so flexible, in fact that you can start with less than 1 C. of sweetener. Add more to taste at any point during the cooking process, just be sure to cook for 2 minutes longer so that the sugar is fully dissolved and incorporated.
Whole Cranberry Sauce Recipe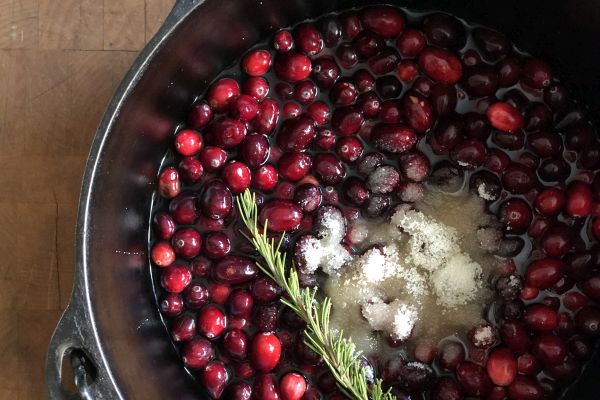 Ingredients:
1 Bag Fresh Cranberries (12 oz.)
1 C. Sugar
¾ C. Water
1 Sprig Fresh Rosemary (optional)

Directions:
Mix all ingredients in a heavy-bottomed pot, and bring to a boil on medium-high heat. Lower burner to a simmer, and continue cooking, stirring constantly for 15-20 minutes, until the berries have burst, darkened in color, and cranberry sauce has thickened. Remove the rosemary sprig, cool, and store in the fridge for up to two weeks. Makes approx. 1 pint, and batch can be doubled or tripled.
Canning Homemade Cranberry Sauce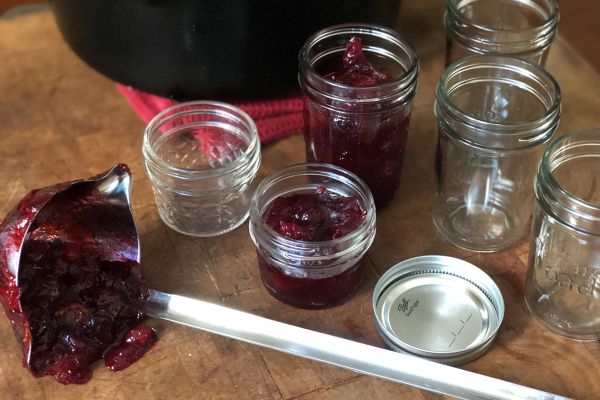 Alternatively, if you would like to can your cranberry sauce to make it shelf stable, rinse your canning jars in warm water, ladle the warm sauce into your jars leaving ½" headspace, and clean the rims of the jar with a cloth dipped in boiling water. Add your lids to boiling water, remove them and set them on your jars, tighten the screw bands (finger-tight), and process in a water bath for 15 minutes. Let cool on a dishtowel and check your seals before labeling and storing in the pantry. Canned sauce will keep for a couple of years in a cool, dark pantry. So, if you're like me, you can spend one year making a big batch of cranberry sauce, and the next year can up a new recipe! Pop open a jar any time you have a hankering for cranberry, and store the remainder in the fridge for several weeks. Enjoy!
About the Author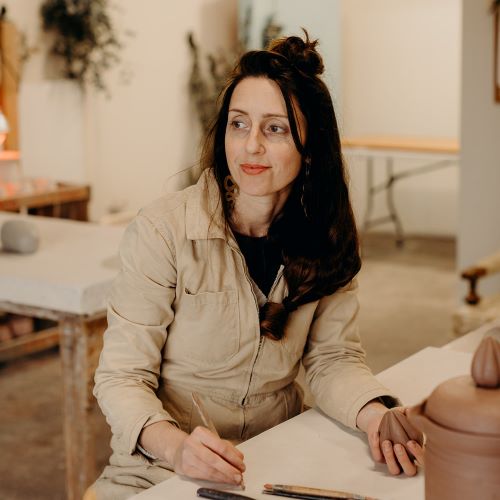 Sienna Orlando-Lalaguna is the owner and maker behind Sienna Ceramics. She is a foodie, urban gardener, and plant-lover with a background in professional cooking. Her interest in food preservation stems from a love of local, organic produce, and a desire to extend the harvest from season-to-season. Sienna is interested in reviving the knowledge of fermentation, and bringing this ancient process back into modern communities like yours!