Quick History of Mother's Day
For over 100 years, the second Sunday of May has been set aside to honor mothers. Showing appreciation for mothers first happened in the United States in 1908, and Mother's Day became an official US holiday in 1914. Traditionally, Mother's Day is a day of flowers, cards, and phone calls to show mothers how much they matter.
At my house, Mother's Day usually coincides with our last frost date, so the day has morphed into back-breaking labor as everyone helps plant the warm weather crops in our garden. That might be ironic now that I think about it.
In the last few years, it seems that Mother's Day is another holiday that has become very commercialized. Stores carry just about every gadget and gimmick packaged nicely for the one day in May when it's appropriate to declare love for all the moms.
Mother's Day is definitely important. It's a wonderful time to slow down from our busy lives and focus on things that matter: family, love, and good food. More important than just giving gifts, however, is spending quality time with the people we love most. And not much brings a family together like homemade food prepared with love.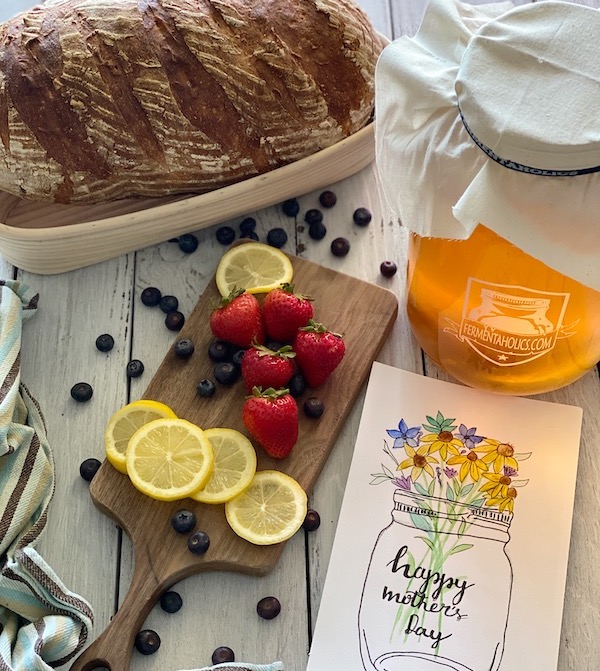 Shower Mom with Delicious Edible Mother's Day Gifts
What do you think makes the perfect Mother's Day gift? Flowers and cards are nice and always appreciated, but gifts that keep on giving are even better! We opted long ago to gift primarily consumable items during the holidays. My family enjoys meaningful gifts that don't clutter up the house, and we love eating together, so edible gifts are a win-win for everyone.
Mother's Day is no exception. If you're having a hard time thinking of the perfect Mother's Day gift, consider giving her either a food kit that can be reused over and over again or a special edible treat you made yourself. With so many people experimenting with sourdough and home fermentation, we think two great gift ideas for Mother's Day are the Complete Kombucha Brewing Starter Kit and the San Francisco Sourdough Starter.

Why give Kombucha?
Kombucha, a probiotic-rich fermented tea, is a delicious homemade drink that can be turned into an infinite number of flavor combinations. In addition to being quite tasty, kombucha is also purported to have many health benefits, including anti-inflammatory and antimicrobial properties.
The Complete Kombucha Starter Kit has everything your mom will need to brew her kombucha, including the brewing container, the kombucha culture, and all ingredients to test and safely brew. It also includes easy-to-follow directions for a no-fail brewing experience.
Once the first ferment is finished, in about one to three weeks, the real fun begins. You can drink the kombucha as is, or start second ferments to flavor the kombucha and add carbonation. The second ferment is when the creative juices and real magic happen! If your mother doesn't want to make her own kombucha, consider getting the kit for yourself and giving her a monthly subscription of delicious kombucha flavors you make!
San Francisco Sourdough Starter
Another great homemade gift idea is the San Francisco Sourdough Starter. I've been making sourdough bread for over a year, and once you have an active starter, the possibilities are endless. From delicious bread to cinnamon rolls, homemade biscuits, and even cake – you can make it all from one well-maintained sourdough starter. I have found that having a no-fail starter is the best way to get off to a productive bread baking experience. Making a starter is possible, but it's tricky, and often people are unsuccessful.
Like Kombucha, sourdough bread also offers many health benefits. Because it is another type of fermented food made with wild yeast, some people who have gluten sensitivities are able to eat sourdough. It's also a great source of B-vitamins, protein, selenium, and iron. Sourdough bread is even thought to be a great source of prebiotic and probiotic-like benefits. Beyond the health aspect, though, sourdough bread might just simply be the best thing since, well, sliced bread.
When it comes to homemade gifts, the ideas are endless. From a beautifully foraged bouquet of flowers to homemade kombucha and sourdough bread, the hardest decision is, "do you gift the kit?" or do you "keep the kit for yourself and gift the homemade product?" Maybe the right answer is to get two kits: one for yourself and one for your mom. Whatever you decide, have a very happy Mother's Day!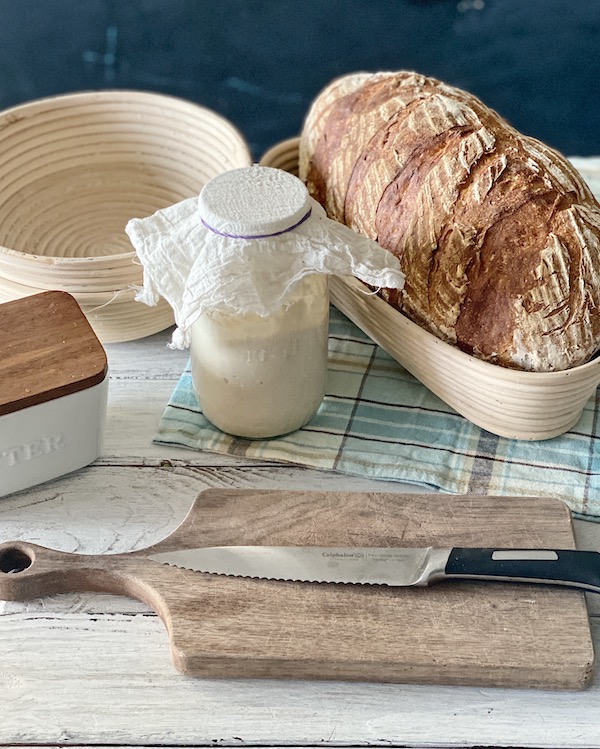 About the Author
Michelle Marine is an Eastern Iowa based writer and content creator focusing on eco-conscious family living and travel. Simplify, Live, Love encourages busy families to lead healthier lives and to focus on what matters – good food, fun memories, and dear family and friends.