Last summer, I sat in my basement faced with a dilemma. We were moving and I needed to pack up 500 glass canning jars. At the time, most were empty but a few dozen still had food in them. Packing the empty glass jars was a chore but not impossible. I wrapped each individual jar in paper and set them carefully in a box.
The nerve wracking part came with the jars that were filled with food. They were heavier and I couldn't pack them in a regular box for fear of the bottom falling out from the weight. I was also afraid of the jars breaking their seal if they bumped into each other too much on the journey.
I was so nervous about it, I ended up placing them in box flats, and each jar wrapped in paper. I moved the precious goods to our new home in my car instead of the moving truck because they wouldn't have made it otherwise.
At the time, I didn't know there was a better storage solution for moving my jars. All my problems could have been solved by using Canning SafeCrates. If I had only known!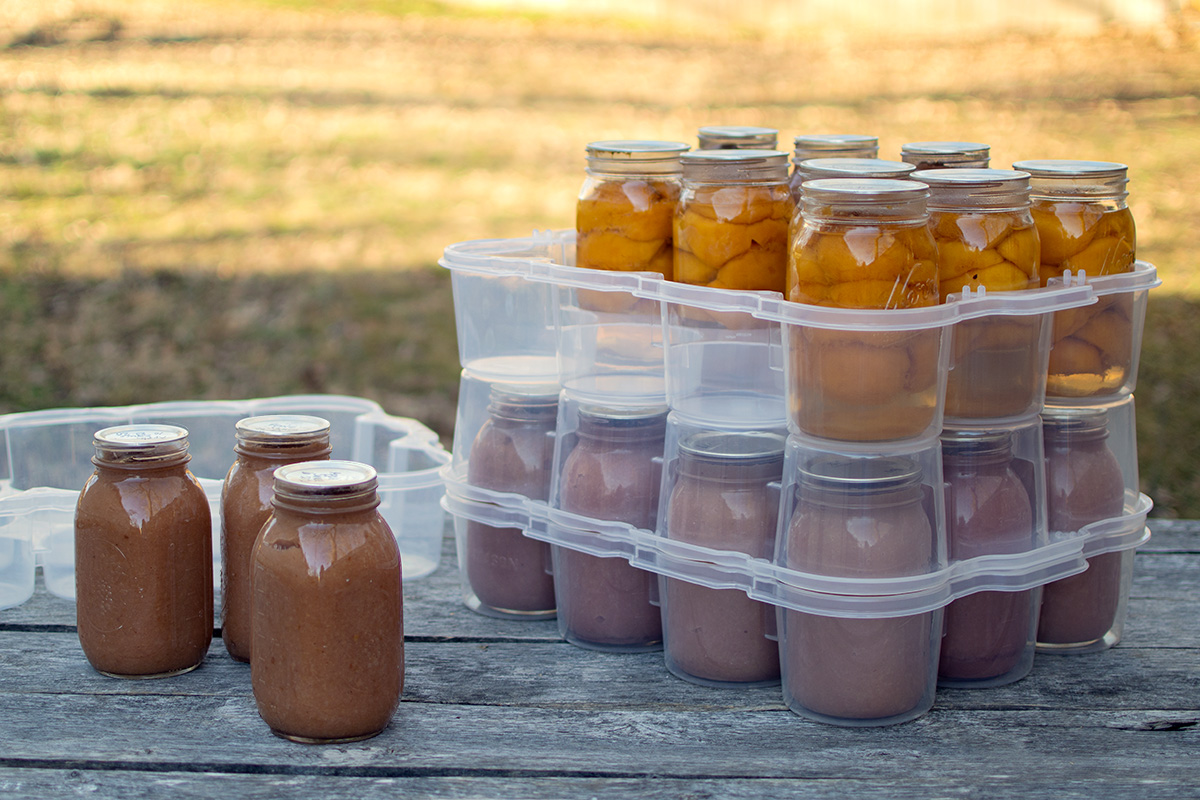 The Canning SafeCrate is a reusable storage container that is large enough to hold a dozen canning jars separate from its neighbors to prevent breakage. The top and bottom fit tightly together, it is stackable, easy to move, and translucent so you can easily see what is inside.
There are so many ways you can use SafeCrates but here are just three ideas on how to use this versatile storage solution for canning jars.
#1. Traveling and Moving
Every Thanksgiving, we travel to visit family and celebrate the holiday together. My Mom knows that I have lots of food in storage from our garden and asks me to bring what I have. In addition to root vegetables, I also pack our home canned corn, cranberry sauce, and grape juice.

Traveling with breakable jars can be difficult. Having a SafeCrate on hand makes taking the canning jars along so easy! Then when traveling home, empty jars can be packed into the SafeCrate container.

In addition to travel, the SafeCrate would be a lifesaver during moving, especially for jars filled with food. They would also work great for moving empty jars as well. No need for paper, packing peanuts, bubble wrap, extra thick boxes, a mountain of tape, or anything else.

The containers are reusable and can be easily cleaned once you're finished. I can see them being especially valuable if you move often. When the move is over, you still have a great storage solution for empty or filled jars. And this brings me to the next way to use them, storage!
#2 Storing Jars Empty and Full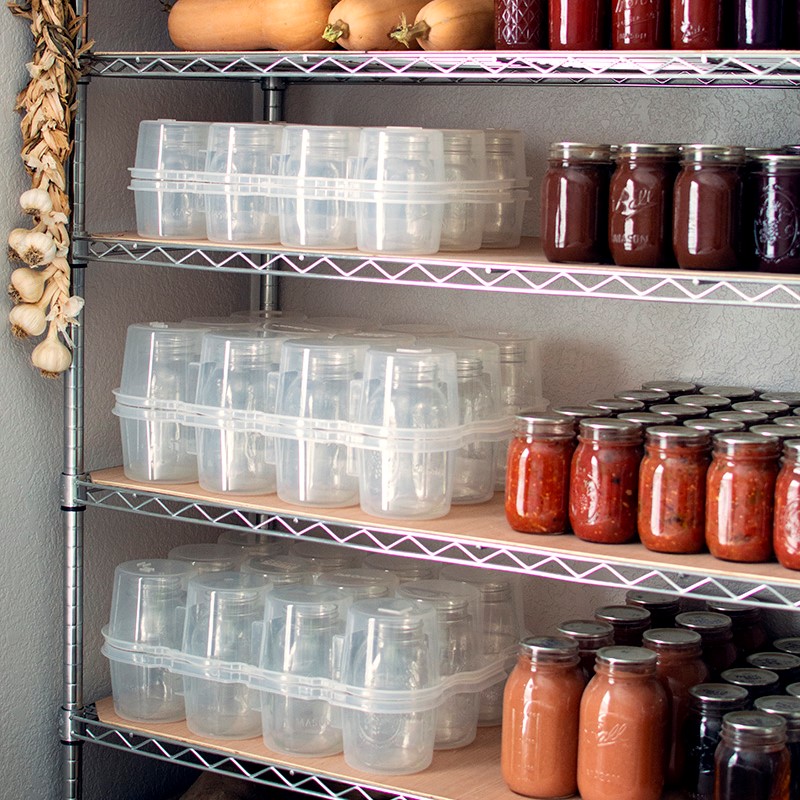 SafeCrates make storing jars a breeze and prevent many of the problems associated with storing jars on an open shelf or in a cardboard box.
When jars are stored in a SafeCrate you have a clean dust free environment while waiting to use the canning jars again.

Another nice benefit is prevention of jars accidentally falling to the ground and shattering. You never know when you'll have jars knocked down from an adventurous cat, playful child, or an earthquake!

Finally, the ability to stack jars without risk of damaging the seal is incredibly useful. The stacking feature is one of my favorite things about the SafeCrate. Boxes have small holes that line up when you place the top and bottom on. You can zip tie or twist tie individual boxes closed for very secure protection or you can string a cord through multiple boxes to hold them together in a stack.
#3 Household Organization
In addition to holding mason jars with canned food, the SafeCrate is also a useful household storage and organization solution. You can store crafts, paints, bathroom supplies, office supplies, garden seeds, and dry foods like nuts and flour in them.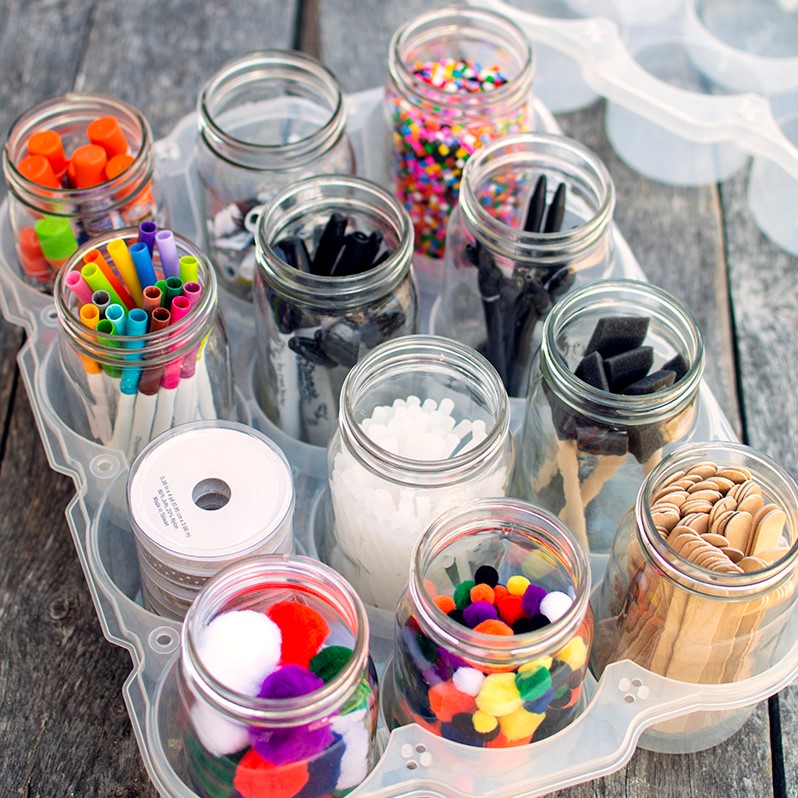 After organizing household items in mason jars, they can be further organized and protected by the SafeCrate container. This allows your organized jars to be stacked safely and moved around without fear of glass chipping or breaking.
Conclusion
Whether you're traveling or moving with canning jars, storing jars, or using it for organizing, the SafeCrate container makes it easy and efficient. The ability to stack canning jars, transport with ease, and protect the jars is indispensable. After using a SafeCrate, you'll wonder how you ever lived without it!
About The Author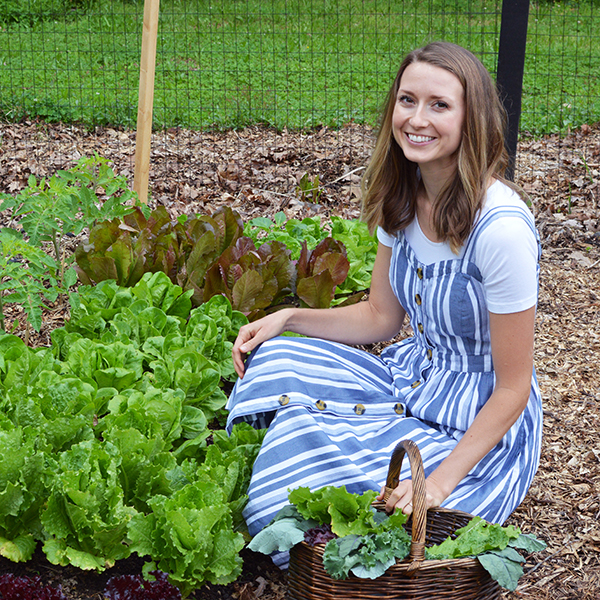 Becky Porter is the writer and content creator behind The Seasonal Homestead. She is passionate about gardening, preserving, and self-sufficiency. Becky is also a professional artist and uses her artistic background in her homestead work. She, along with her husband and four children, homestead on a 52 acres in Arkansas, where deciding what seeds to grow or what farm animals to add is an almost daily topic of conversation.