Foraging Wild Violets
Have you ever wanted to forage your own wild violets for culinary use? When it comes to foraging, violets are an excellent plant for beginners. This sweet-smelling flower is extremely common, easy to identify, and can be used in many different recipes including candied violets, violet sugar, violet vinegar, violet lemonade, violet simple syrup, violet jelly, violet honey, and dried violets for tea. Viola odorata, also known as the Sweet Violet or Wood Violet, is one of the first blooms in late winter or early spring. Here in Northern California, I find the first blooms in mid-December! A cold-loving plant, these flowers start to wilt when the weather gets warm, so expect to forage violets before the warm, sunny days set in. Please note: the common houseplant, African Violet, is not edible.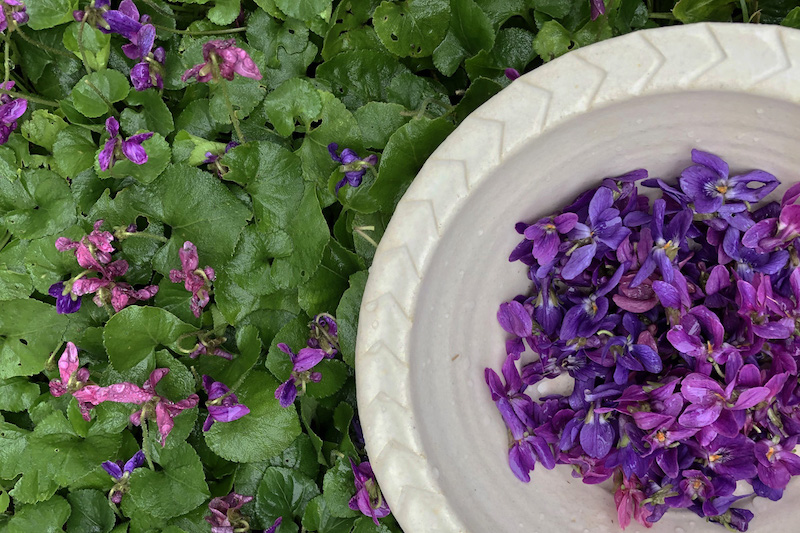 Where to Find Wild Violets
The best place to find wild violets is not so much in the wild, but in semi-wild lawns. Older neighborhoods tend to have wild violets growing in parts of the lawns, especially around the edges or in borders, and I have also found them in more natural park settings around trees and borders. Violets are low-growing, with verdant green heart-shaped leaves, and the flowers range in color from deep purple, to magenta, and even white! Violets spread prolifically and will take over bare spots quickly. Violets can also be transferred quite easily by digging up a piece (roots, runners, and all) and transplanting it in a moist, bare patch of soil.
Cooking with Violet
There are many ways to use your violets in the kitchen, and while many of them are sweet or sugar-based, there are plenty of savory options as well. Try sprinkling violets whole (or just the petals) on salads, over vegetables, or on baked goods. But, in order to get started, the first step is always to wash your violets.
Fill a small bowl with cold water; add your violets, swish around a few times, then lift the violets from the bowl and transfer to a strainer – this will leave the grit at the bottom of the bowl. After draining for several minutes, spread the violets on a towel to finish drying.
Violet Sugar Recipe:
Violet sugar is an easy way to preserve your violet harvest. Start by washing and wilting your violets. Let the violets sit out overnight so that they lose a bit of moisture. Depending on your time and preference, you may pick off all the petals (this produces a more consistent violet color) or you can go the easy route and use them whole.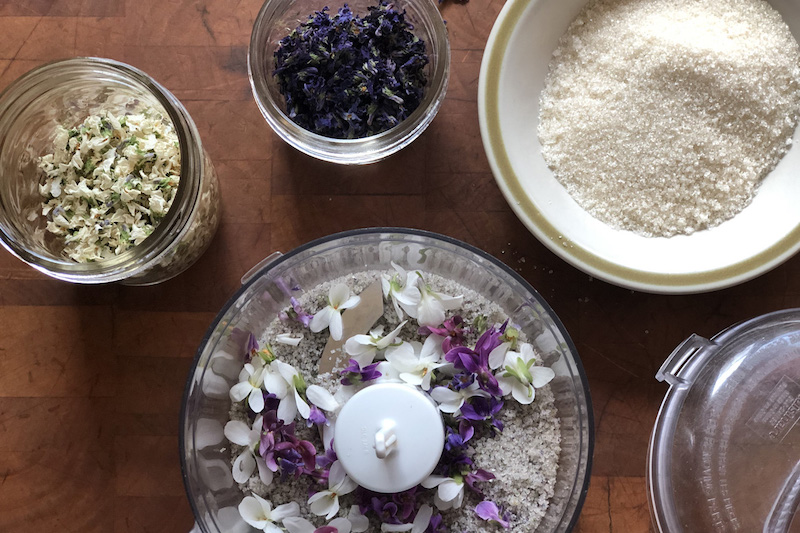 Directions:
Combine ¼ C. violets with ½ C. of white sugar. Blend in a food processor, or a mortar and pestle until the color is even throughout. Lay on a plate or baking sheet to dry completely.
If the sugar is lumpy after drying, you may run it back through the processor. Store in an airtight container like a mason jar in a dark cupboard, and don't forget to label! Note: violet sugar will start to lose its color after several months. Sprinkle you violet sugar on baked goods like cookies or scones, or mix into homemade lemonade and watch the color turn a beautiful pink!

Violet Vinegar Recipe
To make violet vinegar, pour good quality apple cider vinegar or champagne vinegar over whole, washed violets, and let steep in a glass jar, at room temperature, for at least two weeks. At this time you may strain the blossoms out, or leave them in for beautiful vinaigrettes and marinades.

Preparing violets three ways: violet sugar, violet vinegar, and dried.
How to dry violets:
Drying violets is super easy! Wash them using the method above, and then lay them on a towel over a drying rack and set them in a dry place for 4-7 days. Once they are fully dry, place them in an airtight container, like these cute jelly jars, and store in a dark cupboard. Use dried violets by blending them in loose-leaf tea, or sprinkle them on top of baked goods before you bake them. Dried violets will keep for at least a year.
Foraging violets can be a lovely incentive to get out and about when the weather is still cold. Feel free to experiment with new recipes - like adding violets to simple syrup for snow cones or cocktails – and be sure to dry a few for use until violet season returns!
About the Author
Sienna Orlando-Lalaguna is the owner and maker behind Sienna Ceramics. She is a foodie, urban gardener, and plant-lover with a background in professional cooking. Her interest in food preservation stems from a love of local, organic produce, and a desire to extend the harvest from season-to-season. Sienna is interested in reviving the knowledge of fermentation, and bringing this ancient process back into modern communities like yours!