Three Delicious Recipes to Make with Sourdough Discard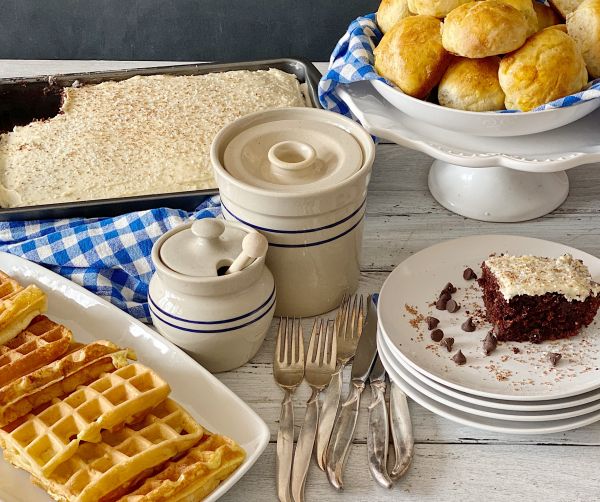 Sourdough starter is the gift that keeps on giving. In addition to making the most perfect bread you'll ever eat, sourdough discard can also be used to make delicious breakfasts, desserts, and baked goods of all sorts! If you've jumped on the sourdough train, here are three ways to use up sourdough discard.

There are a few important things to know as you work with sourdough starter and discard. One of the most important steps is to measure ingredients with utmost precision. I highly recommend using a digital food scale with all sourdough recipes to get the most precise ingredient measurements.

To get the best quality discard, you need a rockin' starter. If you don't have a sourdough starter yet, I highly recommend this one. You'll also need a nice vessel for storing discard, and gorgeous stoneware crocks are a great way to store discard in your fridge.
Overnight Sourdough Waffles
The perfect waffles, this recipe can also double as pancake batter if you prefer! Make a double batch and get cooking!
Time: 20 minutes prep + 12 hours overnight + 20 minutes to make the waffles
Yield: About 12 - 8" waffles
Ingredients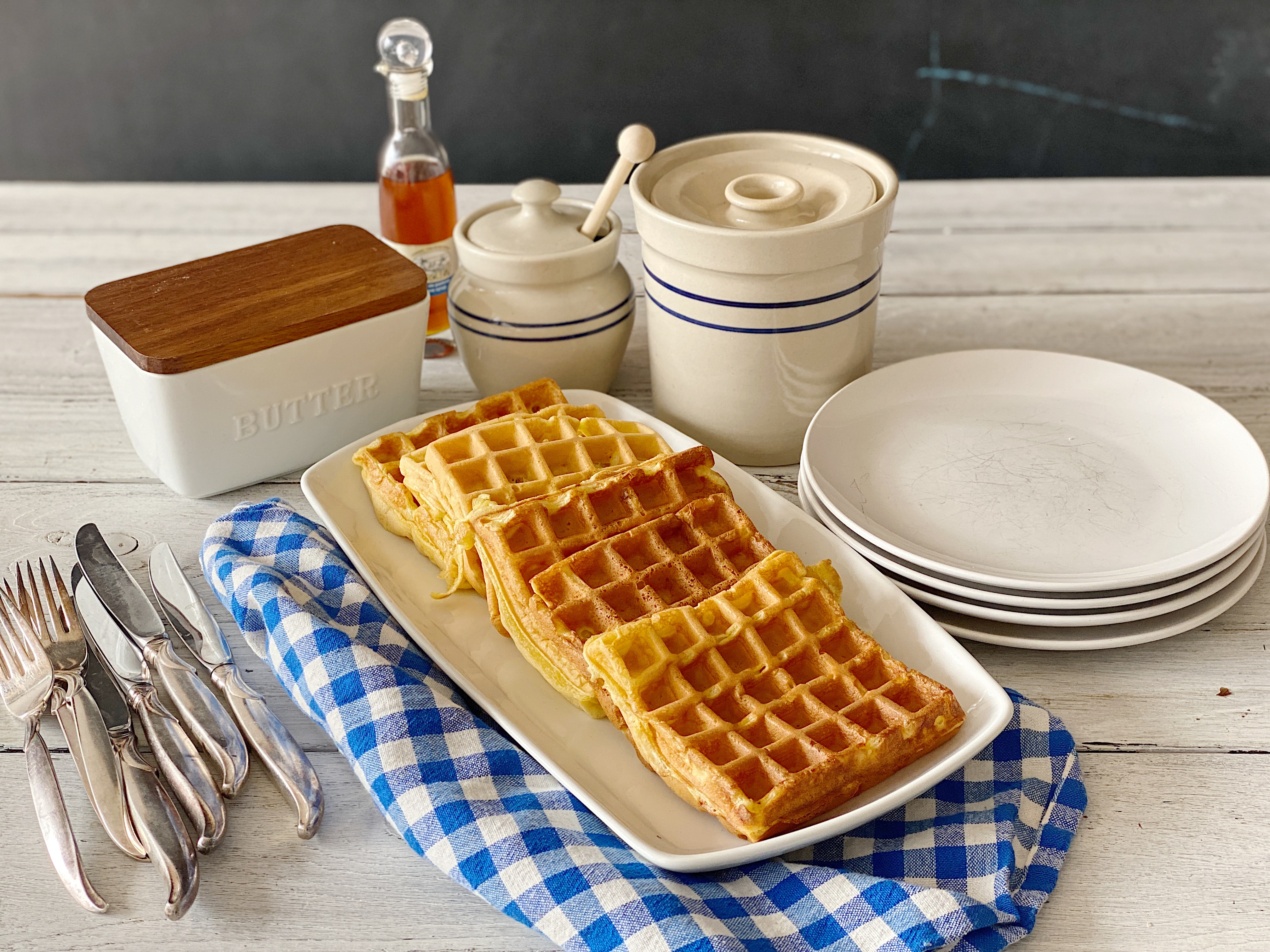 241 grams all-purpose, unbleached flour
454 grams whole milk
227 grams well-stirred sourdough starter discard, room temperature
2 tablespoons sugar
2 large eggs, lightly beaten
¼ cup oil, vegetable oil, avocado oil, or coconut oil
1 teaspoon salt
1 teaspoon baking soda
Preparation
Combine the flour, discard, milk, and sugar in a large bowl. Stir well.
Cover and leave out overnight, or 12 hours, to form the sponge.
The next morning, mix the eggs, oil, salt, and baking soda in a small bowl, then add to the sponge. It should bubble up nicely after stirring well.
Cook waffles on a preheated, greased waffle iron.
Sourdough Dinner Rolls
This recipe makes light and fluffy dinner rolls with a pleasant sourdough tang. They are the hit of any dinner table. Perfect for fancy occasions and freezer cooking too!
Time: 20 minutes prep + 3 hours rising + 24 minutes to bake
Yield: About 16 rolls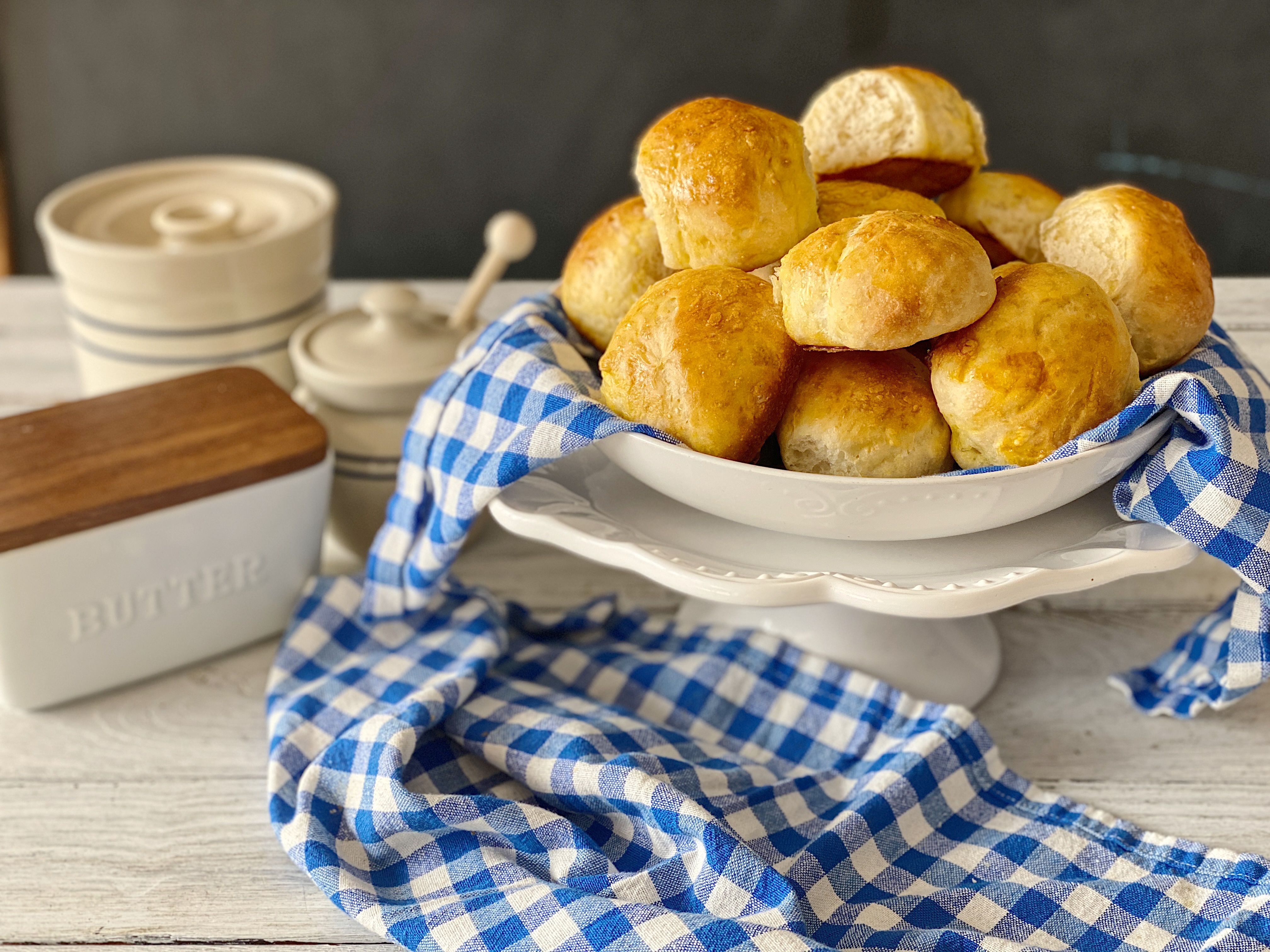 Ingredients
113 grams sourdough discard, room temperature
227 grams milk
345 grams all-purpose unbleached flour
1 ½ teaspoons salt
2 tablespoons sugar
6 tablespoons unsalted butter, room temperature
2 ¼ teaspoons active dry yeast

Egg Wash
1 large egg
1 tablespoon water
Preparation
Preheat oven to 350F for baking.
Combine all ingredients from discard through yeast and mix well (either by hand or with a stand mixer) to make a soft, smooth dough. You may need to add a bit more flour or water to get the right consistency.
Place dough in a greased bowl, cover, and let rise for 60-90 minutes, until it's nearly doubled in size.
Gently deflate the dough and divide it into 16 equal pieces. It helps to measure the pieces with a food scale to get a consistent size.
Divide rolls between two 8" round greased cake pans. The rolls should not be touching.
Cover and let rise until the rolls are puffy and touching, another 60-90 minutes.
Combine the egg and water and brush on top of rolls.
Bake in preheated oven for 24-26 minutes, until the rolls are light golden.
Chocolate Sourdough Cake
You will love this easy sourdough cake. Make an easy 9 x 13 cake for a quick dessert, or use two 8" round cake pans for a fancier occasion!
Time: 20 minutes prep + 3 hours rising + 40 minutes to bake
Yield: 9' x 13' cake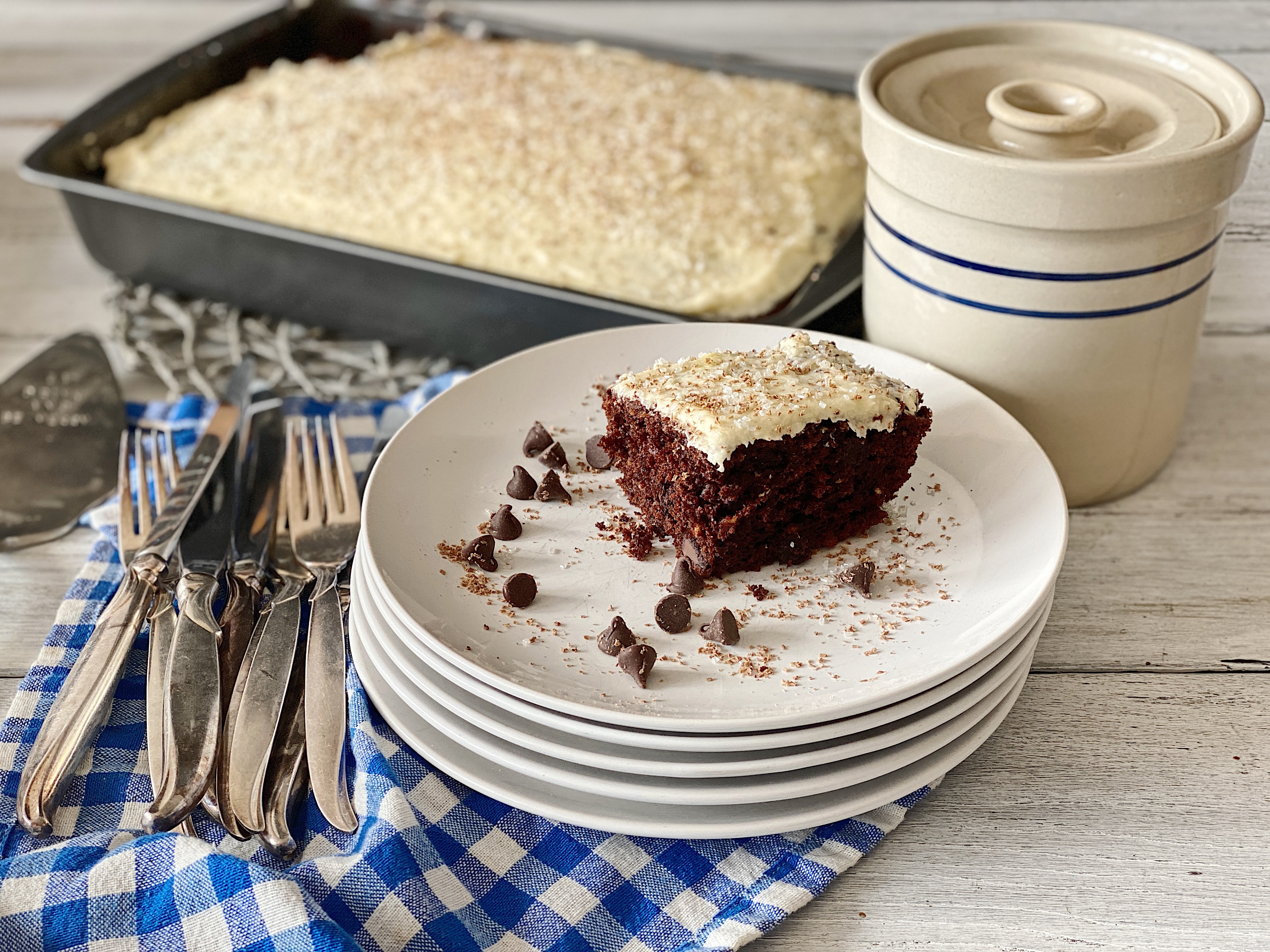 Ingredients
227 grams sourdough starter discard
227 grams milk
241 grams all-purpose, unbleached flour
298 grams sugar
198 grams oil, avocado oil or vegetable
2 teaspoons vanilla extract
1 teaspoon salt
¾ cup cocoa powder
1 1/2 teaspoons baking soda
2 large eggs, room temperature
1 1/2 cups semi-sweet chocolate chips
Preparation
Combine starter, milk, flour in a large bowl and stir well to combine.
Cover and let rest 2-3 hours.
Preheat oven to 350 F.
In a small bowl, combine sugar, oil, vanilla, salt, cocoa powder, baking soda, and eggs.
Fold into the starter mix and stir well to combine. This may take a little while.
Add chocolate chips and then pour the batter in a greased 9X13 pan.
Bake for 30-40 minutes.
Let cool completely, then frost with your favorite frosting, whipped cream, or fruit and enjoy!
About the Author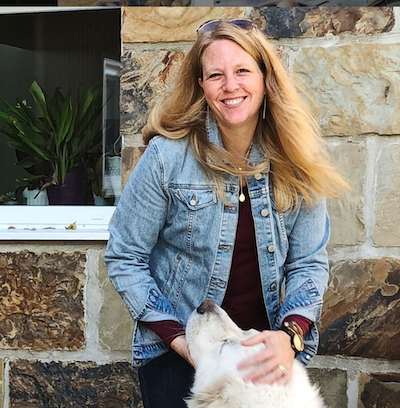 Michelle Marine is an Eastern Iowa based writer and content creator focusing on eco-conscious family living and travel. Simplify, Live, Love encourages busy families to lead healthier lives and to focus on what matters – good food, fun memories, and dear family and friends.