If you're wondering how to flavor homemade kombucha, you'll love these ideas for using frozen fruit, fresh ingredients, or even essential oils to add a fun twist to your brew.
What is kombucha?
Kombucha is a fermented tea packed with flavor, fizz, probiotics, and healthy enzymes. It makes a great alternative to soda or juice and is even associated with certain health benefits.
Health benefits of kombucha
The antioxidants found in kombucha may help to prevent diseases such as diabetes, and heart disease. Regular consumption of kombucha can also help to improve digestion, gut health, and even mental function due to its high level of probiotics and enzymes. While kombucha isn't necessarily a miracle cure for chronic disease, it can be an excellent addition to an already healthy lifestyle.

How to make kombucha
Kombucha starts with sweet tea made from black tea, green tea, or a combination of both. The tea is fermented by adding a SCOBY, or symbiotic culture of bacteria and yeast.

It's pretty simple! You can find instructions here for making single batch kombucha. Serious kombucha drinkers may choose to tackle continuous brew kombucha.

At my house, we've become big fans of the continuous brew method. It does require a large, dedicated vessel, like this Kombucha Crock, to store your ongoing kombucha brew, but the hands-on time involved with regular brewing is much less than the single batch process.
How to flavor homemade kombucha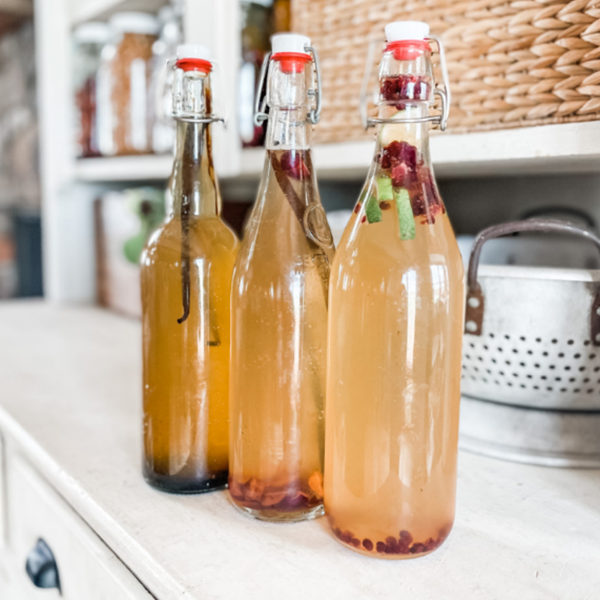 After you've mastered the art of kombucha making, you'll probably want to experiment with flavoring your homemade brew. You can flavor mature kombucha and drink it right away or store it in the fridge.

Alternatively, you might like to try a second ferment to add a bit more fizz and flavor to your homemade kombucha. To conduct a second ferment, add mature kombucha to a flip top bottle. Flavoring agents should be added at this time, too.

Seal up the bottles, wrap with a towel and set aside for a few days. Some people like to keep these bottles in a cooler. Ours sit on the counter, wrapped in a towel. The towel helps to block light and insulate the bottles. It may be necessary to burp the bottles once a day to avoid excess carbonation, which can explode the glass bottles. This is another good reason to wrap the bottles in a towel!
Three simple ways to flavor homemade kombucha
Flavoring options abound, but below you'll find a few ideas to get you started.
1. Frozen fruit
Frozen fruit provides a handy way to flavor homemade kombucha because it won't spoil like fresh fruit and it's easy to keep on hand indefinitely. It also tends to be more affordable than fresh fruit and gives amazing flavor to homemade kombucha.Tips for flavoring with fresh fruit:
Add the fruit after the first ferment.
Some fruits require dicing in order to fit through narrow-necked bottles.
Use approximately 1 tablespoon of fruit per 8 oz of kombucha.
Allow the fruit to steep for at least two or three hours before drinking.
To serve, you can strain out the fruit. Alternatively, you can munch the fruit along with your kombucha.
The possibilities are endless, but a few simple flavors with rave reviews at my house include:
Blueberry
Cherry
Mango
Pineapple
Strawberry
2. Fresh ingredients
Of course, fresh ingredients also offer tasty possibilities for flavoring homemade kombucha. Again, the sky's the limit when it comes to potential combinations. Here are a few ideas to get your kombucha flavoring wheels turning:
Blackberry-lime: 4 blackberries, finely diced +1-inch lime slice with rind, cut into pieces
Lemon delight: 2 inches lemon with rind, cut into small pieces
Berry burst: 2 strawberries + 4 blueberries + optional 1-inch lemon with rind, all cut into small pieces
Cherry vanilla: 5 frozen cherries, cut into small pieces + 1 leftover vanilla bean (from making homemade vanilla extra)
Elderberry: 1 tablespoon elderberries OR 2-4 tablespoons elderberry syrup
Cream soda: 2 tablespoons black strap molasses + 1 leftover vanilla bean
Apple pie: ½ apple, finely chopped + 1 teaspoon cinnamon + 1 teaspoon nutmeg + pinch ground allspice + pinch ground cardamom
3. Essential oils
Essential oils are one of the very easiest ways to flavor homemade kombucha. With a long shelf life, many flavor options, and potential health benefits, what could be better? A little essential oil goes a long way! For flavoring a 33-ounce swing top bottle of kombucha, we typically add 5 drops of essential oil.
A few flavor ideas:
Suggested amounts are based on a 33-ounce bottle size.
Kumquat: 5 drops kumquat essential oil
Green mandarin: 5 drops green mandarin essential oil
Vanilla orange: 5 drops wild orange essential oil + 1 leftover vanilla bean
Ginger + mango (ginger essential oil + a few pieces of mango, fresh or frozen, cut into small pieces)
Note: Not all essential oils are created equally. Be sure to choose high quality, therapeutic grade oils that you feel comfortable ingesting.
However, you flavor your homemade kombucha, you really can't go wrong. If you like variety, you can choose a new flavor every week! Or maybe you'll find a favorite flavor and stick to that.
Experimenting is half the fun! With frozen fruit, fresh ingredients, and essential oils to choose from, you'll always have new flavors to try.
About the Author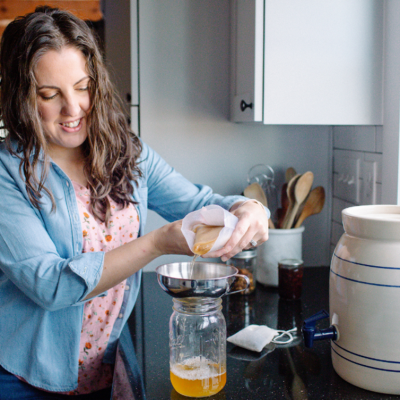 Kathleen Henderson (@rootsandbootshome) is on a mission to help families see the joy in growing, preserving, and preparing real foods, while raising capable kids and creating a life-giving home. She lives on a 20-acre farm in Northern Virginia with her husband and three sons. Snag her free 30-Minute Meals download!